21st Annual Zero Injury Safety Awards ® Gala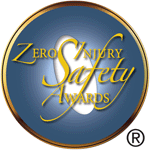 21st Annual Zero Injury Safety Awards ® Gala
Thursday, October 21, 2021
The National Maintenance Agreements Policy Committee is pleased to present the 21st Annual Zero Injury Safety Awards ® Gala, the most prestigious safety award program in the construction industry.
The event is scheduled for Thursday, October 21, 2021, at the Washington National Cathedral located at 3101 Wisconsin Avenue, NW, Washington, DC 20016. A cocktail reception, followed by dinner and the awards program will be held from 6:00 p.m. to 10:00 p.m.
If you need your Username and Password, please contact the NMAPC administrative office at 703-841-9707.
If you have questions related to the Zero Injury Safety Awards®, please feel free to contact Director of Environmental Health and Safety Alex Kopp at akopp@nmapc.org or via telephone at 703-841-9707 x123.